Auction & Estate Sales
Generated from a family owned and operated business. A spin off from the Calhoun Antique Mall, LLC celebrating 22 years of operation. As store Manager of the Calhoun Antique Mall for 21 , I have established a large client base of hundreds of customers to draw interest to each Auction or Estate Sale event. I live in Calhoun GA., so it is easy for me to offer my services to all of north GA., as well as south Tennessee. As a licensed Auctioneer we now offer multiple choices to liquidate your assets, large or small. Our reputation is highly professional, yet compassionate with a friendly professional staff. We are a premier Dalton, Calhoun, Resaca, Rockyface, Tunnel Hill, Chatsworth, Eton, Ringgold, Rossville, Lafayette, Summerville, Rome, Adairsville, Shannon, Cartersville, Fairmont, Jasper & Ellijay GA & South TN. estate sale, tag sale, liquidation and antique auction.
( PLEASE CLICK ON SERVICES TO VIEW REAL EXAMPLES OF OUR ESTATE TAG SALES )
We understand the resale market! Buying, selling and liquidation of complete estates is our specialty. I have 22 years of retail and wholesale experience identifying and evaluating antiques, collectibles and residential contents. As the manager of the Calhoun Antique Mall since 1995 with over 70 dealers, I have studied, evaluated and SOLD antiques, collectibles and residential contents time and time again, whether retail or wholesale in an auction setting. Also, having an active roll in the auction galleries over the years, whether as a buyer, seller or auctioneer, I feel allows me to have the confidence and knowledge to handle any estate, large or small.
( PLEASE CLICK ON SERVICES TO VIEW REAL REFERENCES FROM COMPLETED ESTATES )
Our Calhoun GA estate sales company assist with downsizing, moving sales and complete liquidation of all assets from the residence or business. As a licensed Auctioneer, I can sell any and all personal property including automobiles, motorcycles, RV's, trailers, guns, coins, antiques, modern furniture, fine china, sterling, estate jewelry, etc.
You need to love your job to prosper and I truly have a passion for what I do, and I enjoy helping others move forward through the transition of trying times. We strive to be the best at everything we do, which results into high expectations with the highest optimum outcome for our clients.
( I NOW USE SIX DIFFERENT WEB SITES TO ADVERTISE EACH SALE PLUS FOUR LOCAL PAPER COMPANY'S ----PHOTOS ON BOTTOM OF THIS PAGE IS THE LINES AT TWO ESTATE SALES THIS YEAR )
Before you lift a finger call today! We will treat your family and your personal properties like our very own.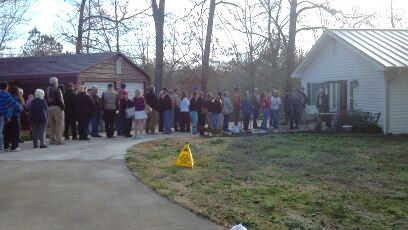 At Calhoun Auction & Estate Sales, LLC we provide services to the following areas:
In Georgia:
DALTON

CALHOUN

RINGGOLD

ROCKYFACE

CHATSWORTH

ELLIJAY

RESACA

ROME

ADAIRSVILLE

FAIRMOUNT

SHANNON

CARTERSVILLE

PLAINVILLE

TUNNEL HILL

LAFAYETTE

ROSEVILLE
In Tennessee:
CHATTANOOGGA

EAST RIDGE

BRAINARD

EAST BRAINARD

ROSEVILLE